Dustiness Testing of Bulk Powders to EN 15051-2:2013+A1:2016
Important in material characterisation, dustiness evaluation is needed for all bulk powders under REACH. 
At the Institute of Occupational Medicine, we help you to stay compliant with regulation whilst mitigating the risks to people and processes associated with bulk powders. Our dustiness testing services, conducted using the European Standard EN 15051-2:2013+A1:2016, provide valuable insights to help you handle materials safely. 
Identifying and Minimising Exposure Risks
Dustiness testing allows us to assess the propensity of materials to generate airborne dust during handling. By accurately measuring inhalable, thoracic, and respirable dustiness mass fractions, we can help you identify and understand the potential exposure risks faced by your workers. This knowledge allows you to put in place effective control measures to safeguard their health and well-being.  
Ensuring Compliance with REACH
All handling of bulk powders require compliance with REACH. Our dustiness testing services gives you all the information you need to stay compliant. Ensuring that you evaluate, control and minimise both handling and exposure risks. 
Dustiness testing is undertaken according to the European Standard BS EN 15051-2:2013+A1:2016 "Workplace exposure. Measurement of the dustiness of bulk materials Rotating drum method". Materials are classified by the European standard in accordance with the measured values of inhalable, thoracic and respirable dustiness mass fractions, as detailed below: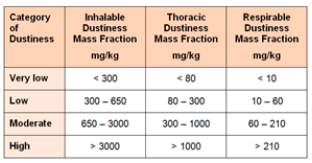 Process improvement and protecting worker health 
A thorough understanding allows you to optimise ventilation and filtration systems, reduce material loss, and prevent contamination of machinery and products. Meaning staff are being kept safe from occupational disease and processes are more efficient and cost-effective. 
Other material characterisation testing
Our dustiness testing is just one aspect of our comprehensive material characterisation services. We go beyond dustiness evaluation to provide you with a better understanding of your materials. By analysing particle size distribution, moisture content, and bulk density, we offer valuable insights that inform risk assessments and give context to control measures that may be in place. 
Our additional specialised characterisations, including SWFF analysis, nanoparticle characterisation, and morphology & chemical analysis, further enhance your understanding of potential exposure to dust, elemental composition, and bio-durability, enabling you to make well-informed decisions to protect both your workers and your operations. 
Take proactive steps to evaluate and mitigate dust-related risks in your bulk powder handling processes. Contact us today.