Workplace cluster of disease
The identification and investigation of workplace disease clusters is an integral part of an employer's process of ongoing health risk assessment because when there's an potential excess level of disease you want to be certain it's not the workplace causing it.
New causes for diseases are constantly being found, for example those working with red cedar have a higher chance of contracting asthma. Clusters, or rather perceived clusters, also have a habit of putting the workforce and management on edge. IOM is here to help by characterising the cluster and to provide a structured evidence-based approach in the unlikely event that it may be work-related.
To give organisations clarity and certainty about whether a cluster is present or not we follow the rigorous methodology outlined below. Giving stakeholders peace of mind and allowing the working environment to be safe and secure.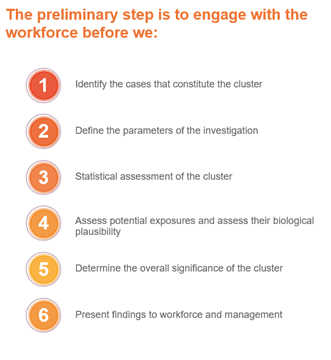 If you suspect you have a cluster in your workplace, and would like IOM to investigate, then please contact us.