Solvents & other Organic Chemicals
Poor air quality and workplace exposures can pose a threat to employees' health and create an unsafe work environment. Such exposures can cause employees to suffer from numerous health issues including headaches, fatigue, nausea and respiratory problems.
Where there is cause for concern in relation to workplace exposures, we can provide a variety of methods for analyzing and identifying compounds and substances. These methods include gas chromatography, mass spectrometry and liquid chromatography.
How do we Provide Analysis?
Gas Chromatography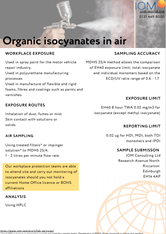 We provide analysis by gas chromatography (GC) for VOCs (volatile organic compounds) in workplace samples, other air samples, soil, fluids and in headspace.
We undertake quantitative analysis for total VOC levels and a wide range of specific substances provided we can obtain calibration standards such as white spirit or resin acids.
High-Performance Liquid Chromatography
We use high-performance liquid chromatography (HPLC) to analyse for isocyanates, hydrazine, formaldehyde and other aldehydes.
GC-MS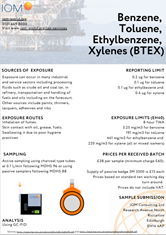 Where there is uncertainty about the compounds present, we can use gas chromatography in combination with mass spectrometry (GC-MS) to identify the major substances and follow this up with quantitative analysis, where appropriate. This is particularly helpful where there is an indoor air quality issue such as an "unknown smell" that is giving rise to anxiety about possible health effects.
We also use the GC-MS to analyse for Freons (refrigerant gases), polyaromatic hydrocarbons (tars), polychlorinated biphenyls (PCBs), acetic anhydride, organic lead, some pesticides and other specific substances such as some lubricants.
Our chemistry team will be pleased to discuss your particular sampling and analytical requirements and help you to find the most cost-effective approach to investigating workplace exposures or air quality issues. We can provide appropriate sampling media and pumps for hire if required.
How our experts can help?
Provide analysis for VOCs in workplace samples
Offer various methods of analysis to best suit the sample being tested
Provide sampling media and pumps for hire
Help find a cost-effective approach to inspecting workplace exposures/air quality issues

Contact: Carolyn McGonagle, 0131 449 8000, or complete our quick quote form below.
IOM is a UKAS accredited testing laboratory No 0374; for frequently requested analytes: benzene, toluene, ethyl benzene, xylene, chlorinated solvents, resin acids and isocyanates.