Beyond the Uniform: How Matt Williams Applied Leadership and Problem-Solving Skills in Occupational Hygiene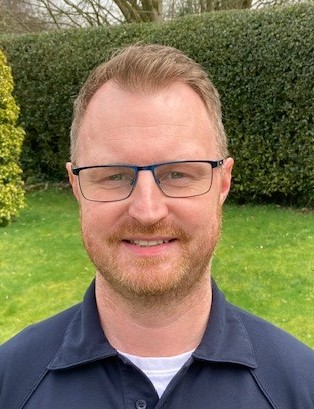 A meaningful job and a change of direction
"What does a meaningful job mean to you?" That age
-
old question
we have all come across
and 
struggle to answer
. For former RAF
Police
Close
Protection Operator and now IOM Operations and 
Quality Assurance Team Leader
Matt Williams
his response for what are
two very different careers 
was
'A sense of purpose
and a feeling of giving back
'
.
Yes
, on paper
they
are
polar
-
opposite
worlds but for Matt, who spent seven years in the RAF 
including a tour
s
of
Iraq and
Afghanistan
before
leaving to embark
on
a different
vocational 
pathway
,
his appointment
to the IOM in 2019 gave him the change of
direction both he and his 
family were looking for.
In being recognised for his
wider transferable skills, he has been able to
successfully
apply
his 
military
learnings
to his
role within IOM
resulting in a
feeling
of personal and professional 
satisfaction
as he helps the organisation
it
in its mission to positively impact society
.
As Matt himself says: "
Just because you don't have specific industry experience does not mean that 
you
do not
have a
useful
skillset to offer
, and I was very lucky that IOM had th
e vision to see that in 
me
. Whilst the journey might be different
,
if you assess your experiences and your learnings you will 
have the necessary skills
that you require to carry out your job successfully."

Bringing key military skills to IOM
Not everythin
g goes to plan in the military, and you need to be able to overcome obstacles. With 
this in mind one of the most relevant skills Matt has brought to IOM, as identified by the HR team 
and his mentor Dave Flower is his ability to think on his feet, assess a
problem, and test out different 
solutions in what are often high
-
pressured and sensitive environments, a key ingredient to being an 
effective Occupational Hygienist and Ventilation Technician.
For example
,
going into a
surgical theatre
that
may have an unfit ventilation system and looking at 
different approaches to how to remedy the problem and avoid
a
poten
t
ial closure which could result 
in many delayed operations.
Refined
in the military, t
his
solution
-
focused
fail
-
fast
approach
looks at
all the different
pathways 
that you can take to reach your desired outcome
, if one doesn't work you
move onto the next
rather 
than wasting time on something that is not working
.
In such a client
-
facing organisation as IOM
,
it 
ensures
an agile response
base
d on
assimilated evidence
and means that businesses can resume 
operations quickly
and compliantly
which is vital
.
Alongside this Matt brings a leadership ethos that instills confidence to cultivate a team of leaders 
that can use their initiative, rely on
independent thinking, and take personal responsibility. This 
leadership style very much in tune with that found in the military e
nsures that each member of his 
10
-
strong occupational hygiene & ventilation team is empowered and motivated to work effectively 
to their full potential for both the good of IOM and their clients. 
Finally, clarity of communication with both clients and team members, and being able to relay 
accurate information and findings is a vital part of Matts role and one which no doubt cross
es over 
seamlessly from the military. Critical within the field of Occupational Hygiene, open and clear dialogue ensures successful team collaboration and demonstrates to clients why specific work and assessments were undertaken.
IOM career support and development
As IOM continues
to grow, Matt's appointment demonstrates the recruitment ethos
held by the 
organisation
. O
ne that looks to people's unique and individual expertise and knowledge, believing 
that skills gleaned from a variety of careers can be invaluable with the support of structured on
-
the
-
job learning, expert colleagues to call upon, and professional study.
Whilst
his
vast range of transferrable skills were clear
to IOM
leading them to invest
in his industry 
specific modules, and assessments
, they
continue to offer
vital
in
-
house
support and development 
to help
him enhance and harness
this skillset
for his
sp
ecific
role within the organisation
.
Organic m
entoring support
has been
fundamental allowing Matt to learn from an experienced 
colleague
s
on the job, a chance to talk openly, seek advice and develop skills
, as well as this he has 
fortnightly
Leadership De
velopment Coaching from People and Operations Director, Michelle
Reid 
again to have a forum for discussion
and guidance
.
Coupled with this valuable one
-
on one
-
approach, The Behavioural Development Programme ensures 
Matt can tap into his existing expertise
and continue to refine it as it relates to effective leadership, 
teamwork, managing conflict, and gaining trust.
The Learning Management Platform and Wellbeing Hub have also given him opportunities to be 
signposted to modules and resources to help him bot
h professionally and personally such as 
coaching skills and resilience training.
With t
his multi
-
layered
development
approach
IOM
hav
e in Matt
a
valuable colleague
and
team 
leader,
and
he
, a
rewarding
career path
which
in his words
has given him
: "a sense
of belonging."

Realising potential
IOM
is
not alone in
understanding
the
value
of
employing
individuals such as Matt
, indeed
a
2022 
YouGov survey
demonstrates
that
71% of employers think hiring ex
-
service personnel brings with it a 
strong work ethic
, and 42% believ
e
it can fill skills gaps
.
In looking more widely for talent
with much
-
needed skills,
and
supporting those colleagues to 
develop
and realise
their full potential, IOM continues to strive ahead
both as an employer and as an 
industry leader in the field of Occupational Hygiene.