Discussing face coverings research with Relaxback UK Show
IOM Principal Scientist Rebecca Canham, appeared on UK Health Radio as part of the Relaxback UK show. On the show she discussed the findings of a PROTECT National Core Study into the use of face coverings amongst workers and members of the public with host Mike Dilke. The research study recently completed by IOM looked at peoples use of face coverings within retail consulting environments where workers deliver close contact services to customers in consulting rooms away from the busy shop floor.
During the interview discussions explored were:
Whether use of face coverings continues to be mandated by retailers and whether this is expected to be enduring;
Similarities and differences in attitudes and practices amongst different worker groups and members of the public;
How the wearing of face coverings have become habit and the impact of social acceptance on their use.
Detailed study findings are soon to be published on the IOM project webpage, which will include stakeholder specific infographics, 'video bites' and the detailed report.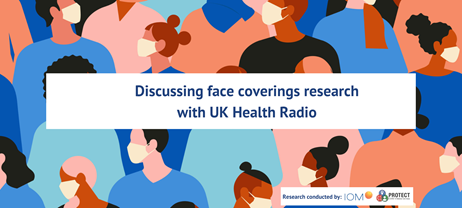 Listen Here