Research Insights: Hexavalent Chromium
Bringing research to industry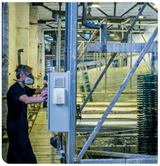 IOM's work as part of the HBM4EU Chromates study has revealed that hexavalent chromium [Cr(VI)] is a cause for concern for workers and companies alike. The carcinogen is present in activities such as stainless steel welding, Cr(VI) electroplating and other surface treatment processes, thus placing workers involved in these activities at risk.
Download the below to understand both the research and what this means for those who work regularly with Cr(VI).
If you have any concerns about Cr(VI) exposure in your workplace, get in touch with our laboratory who can arrange for samples to be taken and analysed. Providing you with a thorough understanding of your workplace so that you can take action.
Learn more about our research capabilities and the work of our exposure scientists such as Dr. Karen Galea.
Uncover the insights now